SUNGAI TINGGI BEACH VILLA
 
PRICE GUIDE: US $5 MILLION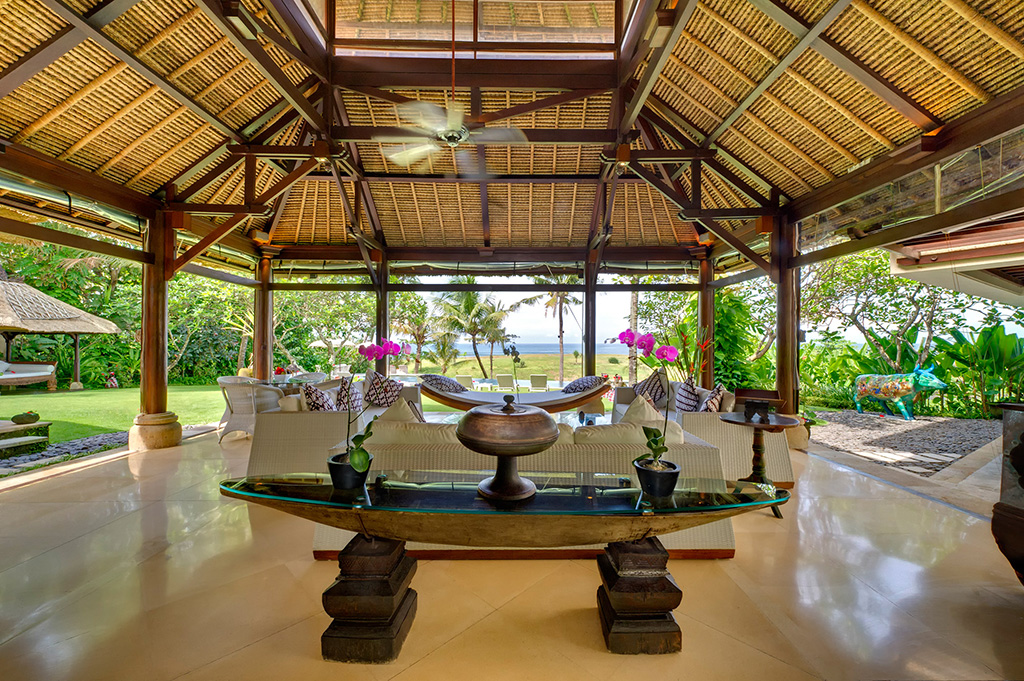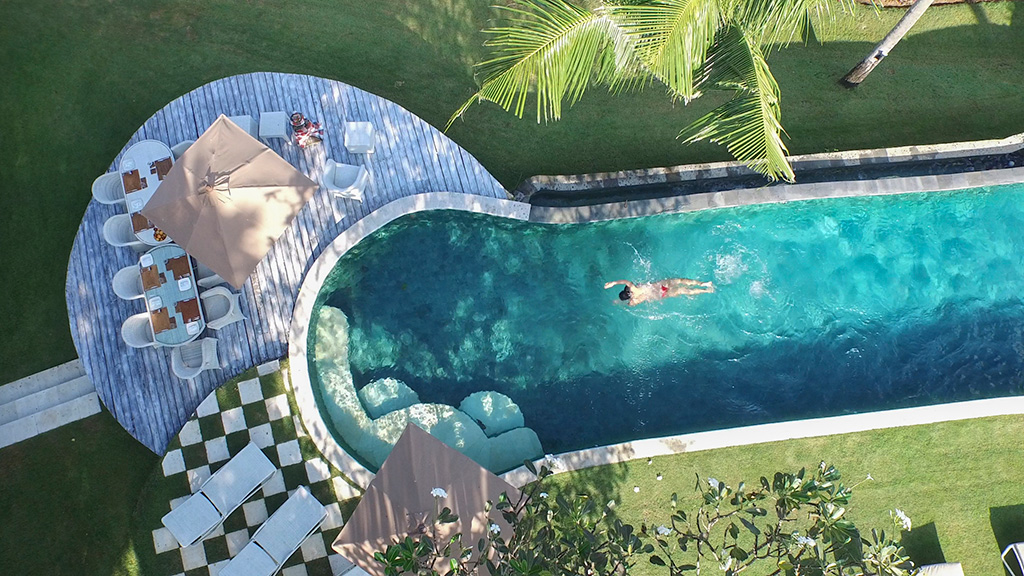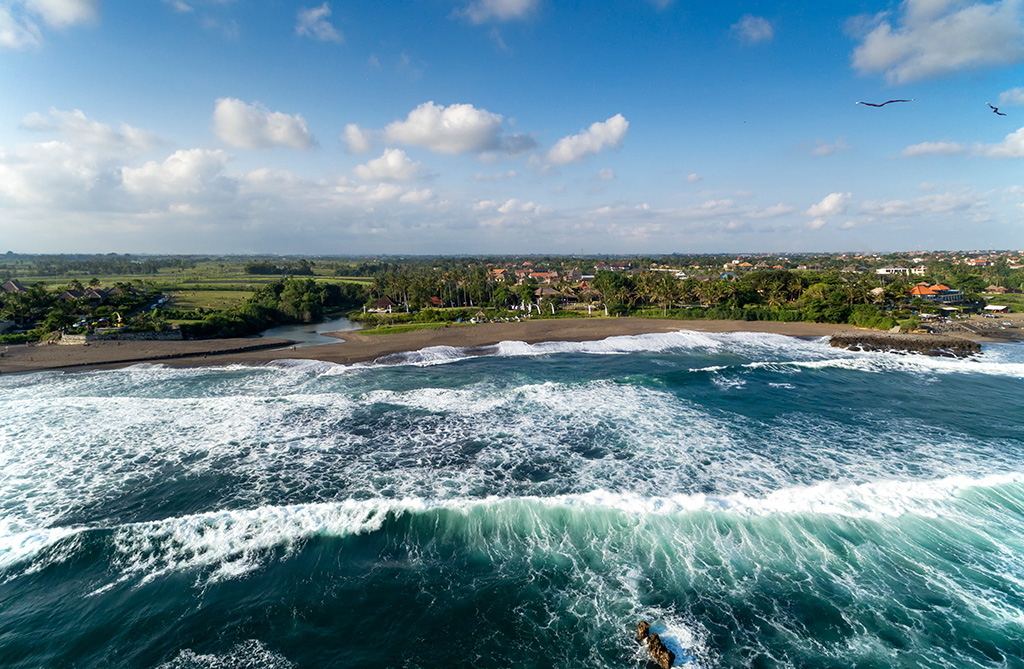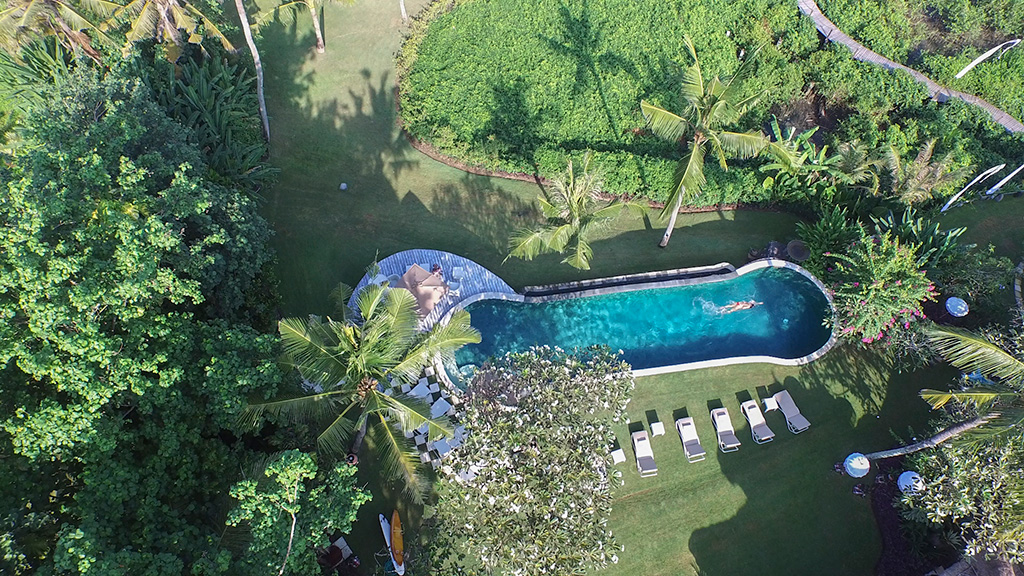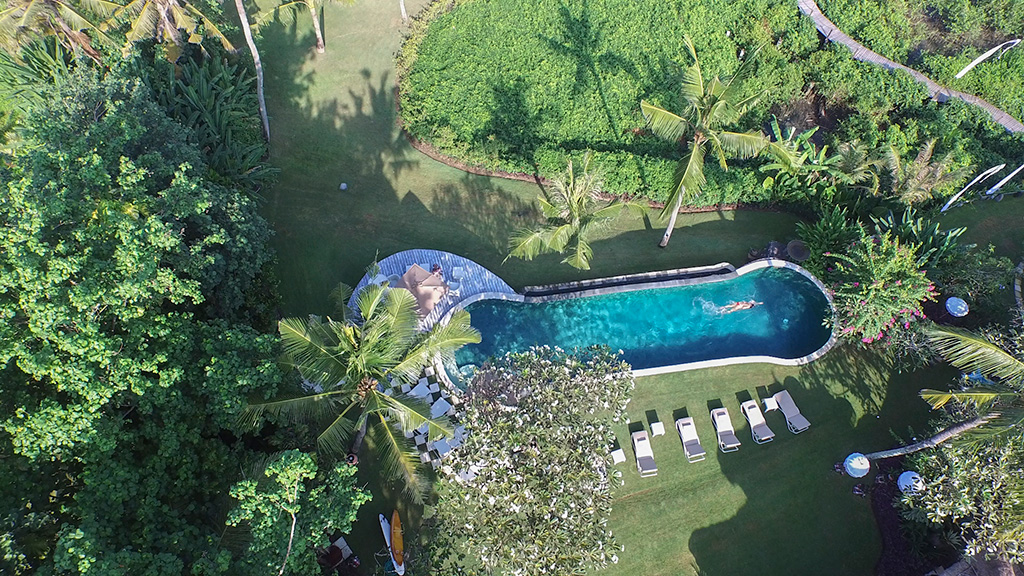 WELCOME TO SUNGAI TINGGI BEACH VILLA
Properties like Sungai Tinggi Beach Villa are few and far between. This enchanting, traditionally inspired family home is a travel destination in itself, set within a vast estate that boasts over 100 metres of absolute beach frontage looking onto one of south-west Bali's renowned surf breaks.
Sungai Tinggi Beach Villa (sungai tinggi means 'high river') was designed by long-term Bali residents as a spacious and comfortable family home. Created in the style of a traditional Balinese compound, the villa comprises a series of living and sleeping pavilions oriented for optimum privacy as well as for the glorious ocean views. The four-bedroomed main house (with a lounge that can be converted into a fifth bedroom) can be rented independently from the very private two-bedroom guesthouse that's located in a quiet corner of the grounds alongside the river. The liberal use of local materials – exotic hardwood and terrazzo floors, coral-limestone walls and vaulted alang-alang thatched roofs – is testimony to the owners' passion for Bali, as is their stunning collection of museum-quality art and artefacts that contribute to the villa's unique character and charm.
This appreciation for the local environment extends to the villa's magnificent tropical gardens, which make a dream setting for a tropical wedding celebration. Soft rolling lawns dotted with fragrant frangipanis and swaying coconut palms hug the landscape's natural contours, while an 18-metre infinity swimming pool blends seamlessly with the ocean panorama. A circular deck provides ringside seats for viewing Bali's spectacular sunsets, and a traditional thatched balé decorated in black and white check makes an inviting respite from the sun. Work on your serve at the tennis court (shared with a neighbouring villa), arrange for a soothing massage in your room, or gather for cocktails in the impressive living pavilion. With such a choice of social and private space, Sungai Tinggi Beach Villa is perfect for families or groups of friends.
A friendly staff team pride themselves in taking good care of their guests. From cooking delicious Balinese meals to preparing your canopied bed at night and running your rose-petal bath, they will ensure your stay is truly memorable in every detail. And should you wish to explore beyond the villa, a car and driver maybe arranged for sightseeing, shopping and adventure at a small extra fee.
As part of the highly regarded and tightly held 2 Hectare Pererenan Beach Estate, Sungai Tinggi Beach Villa is offered for sale to pre qualified purchasers.
The Architect designed Craftsman built Fully Furnished 4 Bedroom plus 2 Studies or 6 Bedroom Luxury Villa is set on 9000 sqm direct ocean front land as part of the exclusive 3 Lot subdivision. The Villa measures in excess of 540 sqm.
Land comprises:
· Exclusive ownership of 2000sqm land on which Villa is built,
· Shared ownership of private entry road (approx 400sqm),
· Shared ownership of Tennis court ( approx 600 sqm ),
· Shared ownership of fully landscaped beachfront land (approx. 6000 sqm)
Note:
1. For full description email agent
2. Bookings and Rental Returns for complex available on request
3. Existing bookings for 2017 must be honoured
4. Price fixed till 30 June 2017 and thereafter subject to review
5. Property sold on walk in walk out basis.
6. Adjacent Lots owned by prominent American lawyer and Vendor respectively. Purchaser must respect privacy and of all owners.
VILLA LAYOUT
Sungai Tinggi Beach Villa has been designed to optimise its extraordinary beachfront setting and ocean views. A large open-sided living pavilion fashioned after a traditional Balinese wantilan (village meeting hall) forms the villa's social hub. To the left is the master bedroom pavilion (where a lounge can double as an additional bedroom). To the right, a two-storey building contains three guest bedrooms and across the gardens, privately positioned to face a small river and the ocean, is a delightful two-bedroom guesthouse with its own plunge pool. Set well back from the living and dining pavilions is a chef's kitchen and staff service area. In between, a path leads to the full-size tennis court (shared with a neighbouring villa).
Amongst the lush gardens is an 18-metre swimming pool and sundeck and a private coconut grove, complete with large tiled balépavilion, that makes an idyllic wedding venue.
LIVING AREAS
Indoor living
The huge thatched wantilan-style living and dining pavilion is Sungai Tinggi Beach Villa's social hub. Cooled by ceiling fans and sea breezes, this open-sided building accords guests spectacular views across the garden towards the ocean from a variety of seating areas set on cream terrazzo floors under a soaring two-tiered roof. Huge sofas provide comfortable space for lounging. A magnificent suar wood table seats 14 for formal dining, while a smaller breakfast table provides a more intimate space for four and the coconut-shell bar is the perfect setting for sundowners and cookery demonstrations. From the living pavilion a covered boardwalk leads to the villa's kitchen – well equipped and beautifully decorated with a design palette of cream terrazzo and lime-washed teak.
Incorporated within the master bedroom pavilion is a handsomely furnished lounge (which can be converted to an extra bedroom for two with attached shower room if required) equipped with a TV artfully concealed in an antique Indonesian cabinet.
The second-floor lounge in the guest bedroom pavilion is blessed with panoramic ocean views.m Its wide windows can be flung open to catch the sea breeze or closed for air conditioned comfort, while rattan chairs and a huge daybed make this a comfortable retreat at any time of the day.
The spacious guesthouse living room provides comfortable seating facing a 42-inch TV, DVD player and music system. A two-seater bistro table makes an alternative breakfast venue for shy couples. Three walls of sliding glass doors open onto the guesthouse veranda and its uninterrupted beach, river and garden views. The veranda is furnished with rattan chairs, and extends to a delightful rivers-edge dining area with table for six.
Outdoor living
Sungai Tinggi Beach Villa's owners have lavished much love and attention into creating the villa's lush landscaped gardens; fishponds with bubbling water features, fragrant frangipanis and tropical coconut palms all mix harmoniously with the surrounding natural environment. From the living pavilion, manicured lawns of Japanese grass roll towards the beach, and the natural green-stone pool is perfect for refreshing dips. Sun seekers will enjoy lounging on the poolside deck and the garden balé is just the spot for sea-breeze-cooled siestas. As night falls, drinks and supper can be served at the poolside dining table under a canopy of stars.
Over in the guesthouse, a bamboo lounger, double sunbed and parasol are set before a plunge pool with seating and jacuzzi jets.
In the villa's private coconut grove is a large event balé with guest washrooms, purpose-built to facilitate weddings and celebrations for up to 200 guests. From the coconut grove a raised timber walkway meanders to the beach.
BEDROOMS
Master suite
Sungai Tinggi Beach Villa's master suite is spectacular. Here, an exquisite collection of antiques and artefacts vie for attention with the ocean view beyond the private terrace. From behind the four-poster king-size bed, a Buddha statue casts its protective eyes over sleeping guests, while armchairs around a small round table provide a cosy spot for morning coffee. Hidden behind traditional carved doors is a dressing area. Equally impressive in size and décor is the garden bathroom, with open-air shower, twin washbasins and a circular terrazzo bathtub for two.

Main house guest bedrooms
Three guest bedrooms in the main house feature whitewashed four-poster king-size beds (convertible to twin), draped in mosquito netting and dressed with crisp white linen and batik cushions that contrast nicely against the Bengkirai wood floor. The two downstairs rooms open onto the garden, while the upstairs bedroom opens onto a balcony shared with an adjacent lounge and panoramic ocean views. Each comes with air conditioning and ceiling fans. All three ensuite bathrooms are individually designed – one has a sunken terrazzo tub, another an alfresco shower, and the upstairs bathroom a shower looking out over rice-fields.
Guesthouse bedrooms
The very private guesthouse at Sungai Tinggi Beach Villa has two bedrooms: a river-view master bedroom with a king-size bed, and a same-size twin-bedded room looking onto the coconut grove. These romantic teakwood-panelled retreats feature antique armoires and distinctive Indonesian furniture, decorative Madura panels and black-and-white prints of 1930s Bali. Both offer air conditioning and overhead fans. These rooms share a bathroom fitted with a huge circular bathtub, monsoon shower and granite washbasin.
AGENT: MARIO VESELY
MOBILE: 0431 911 558
EMAIL: MARIO@STRIPE.COM.AU
AGENT: ANTONIOS KANIS JP
MOBILE: 0410 113 338
EMAIL: AK@STRIPE.COM.AU